CHARGER FOR ELECTRIC VEHICLES EM-EVAC
EM-EVAC
CHARGER FOR ELECTRIC VEHICLES EM-EVAC
The electric car charger type EM-EVAC allows you to charge one or two vehicles with a power of up to 7.4kW (type 1) and up to 22kW (type 2). The device is equipped with a type 2 socket or flexible charging cables terminated with a type 1 and / or type 2 plug.

Designed and made in Poland, these stylish charging units are quick to install and easy to use. In the individual version, the customer can decide on the color of the charger and the graphics of the front panel.
DESCRIPTION
The EM-EVAC charger is intended for charging batteries of electric and plug-in hybrid cars as well as batteries of other vehicles equipped with type 1 or type 2 charging connectors. The charger can be operated both indoors, such as garages, shelters or underground car parks, and outdoors.
The EM-EVAC series of chargers is intended for companies and organizations that want to provide the service of publicly available vehicle charging. These devices are adapted to work "online" with the system of the charging service provider.

Functions:

one or two charging stations,

free-standing structure (up to 2 positions) or hanging "Wallbox" (1 position),

each of the charging stations performs the functions of measuring the supplied electricity,

RFID card reader,

charger software that supports the OCPP 1.6 protocol,

3G / 4G / LTE connectivity,

type 1 and / or type 2 charging plugs, alternatively type 2 charging socket,

convenient handles for putting away the cable after charging the vehicle,

overload and short-circuit protection,

extended protection against electric shock,

the ability to adapt the software to customer requirements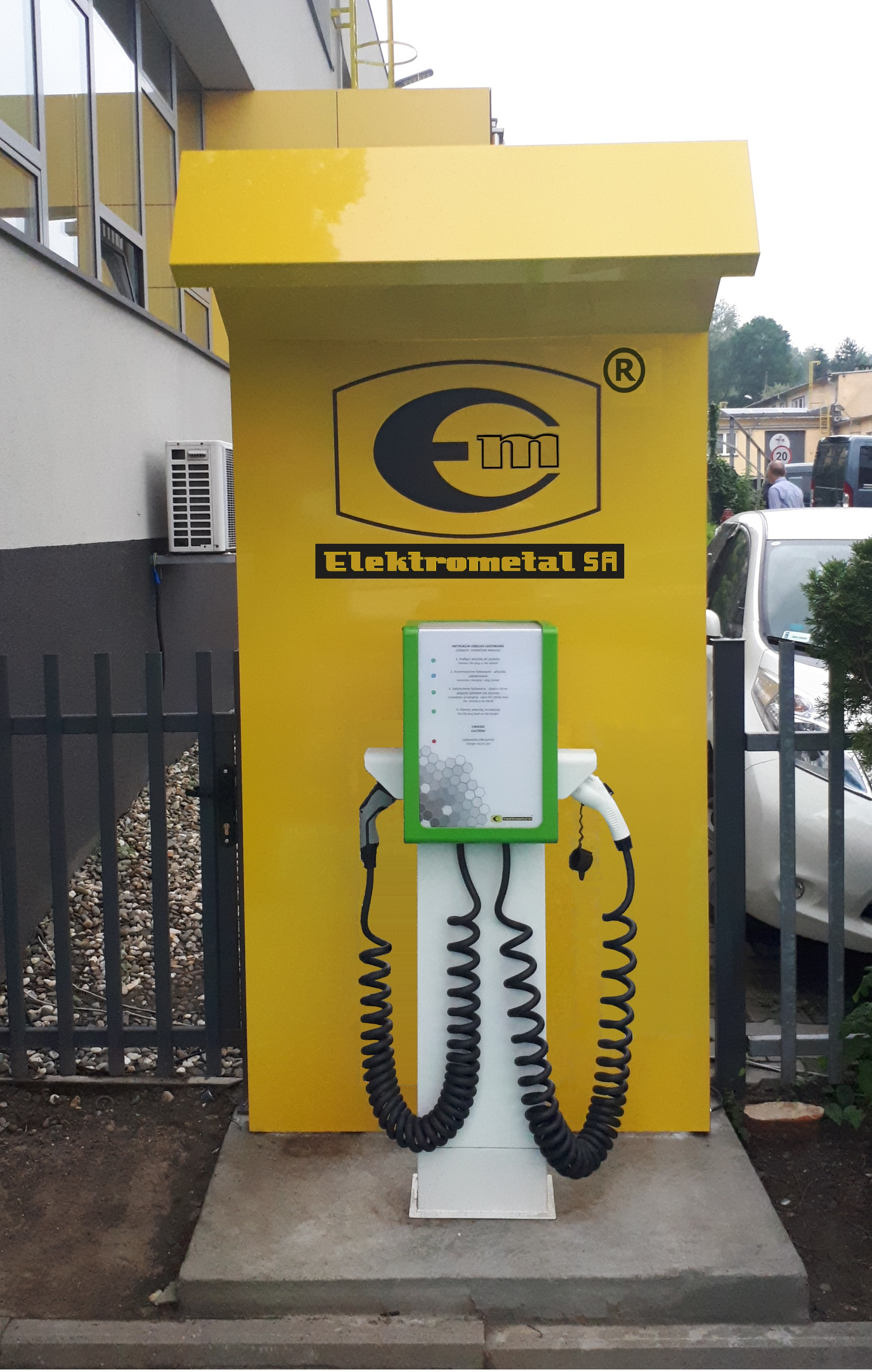 FEATURES/TECHNICAL SPECIFICATION
Rated voltage

3 x 400 V; 50 Hz

Rated current

63 A

Rated power

do 2 x 22 kW

Number of charging points

1 lub 2

Charging connector type

Cable with plug type 2

Charging socket type 2

Cable with plug type 1

Length of the charging cable

Up to 4 m

User authorization type

- RFID card of the charging service provider

- Authorization via the application

Protocol

OCPP 1.6 JSON or SOAP

Network connection

GSM / 3G / 4G, VPN, APN

Environmental protection

Minimum IP54

Mechanical protection

IK10

Cross-section of the connecting cables

6 ÷ 16 mm2

Dimensions +/- mm

366 / 1400 / 200 mm

Operating temperature

-25 °C do +55 °C

Enclosure material

Stainless or coated steel
ANY QUESTIONS?

CONTACT US