Smart Gas Metering - Wireless Monitoring of LP Gas Tanks on Fuel Station
Smart Gas Metering - Wireless Monitoring of LPG Tanks
IMR Tankmonitoring system is designed for remote monitoring of LP Gas level in the fuel station tanks. The system can be integrated with commonly used ATG station controllers, such as Veeder-Root, OPW, DOMS and others. IMR Tankmonitoring solution, designed for demanding fuel station environment, provides:
Supervision over current and historical LP Gas levels,

Safety improvement for LP Gas delivery, overfill prevention,

Consumption prediction for better delivery planning, stock-out elimination,

Multi-level data access (on-site presentation, data integration with existing ATG systems and over Internet).
DESCRIPTION
Local readout at the station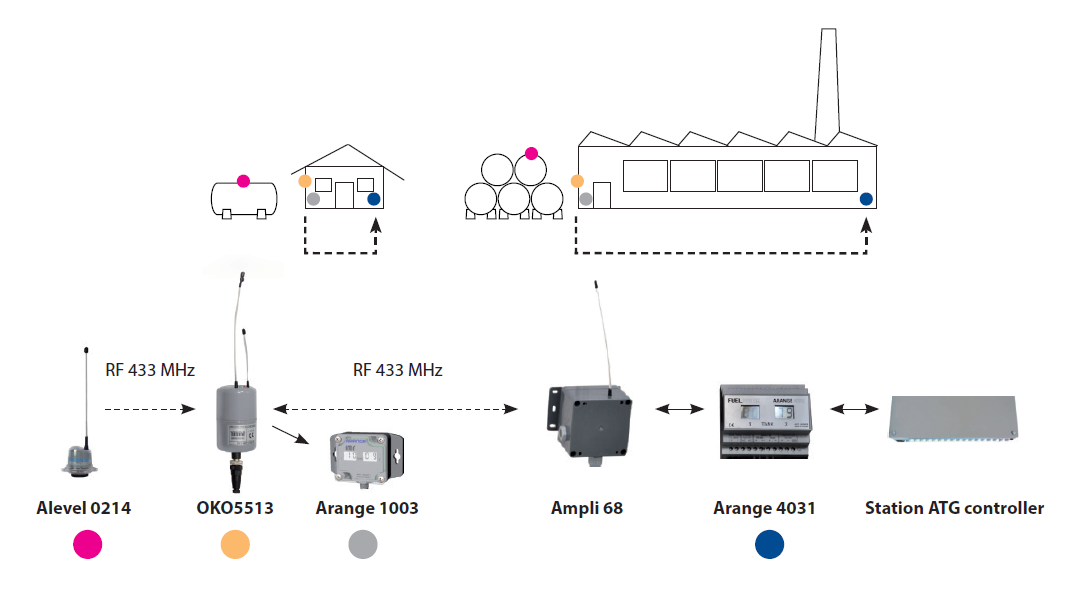 GPRS or SMS communication

Detection of LP Gas refilling, volume and time

Seamless integration with station ATG

Long life lithium battery (up to 5 years)

Real time data of LP Gas level available locally at the station

Robust, suitable for outdoor environment

Fits nearly to all types of gauges and tanks

On-delivery, Hi and Lo levels alarming

Zone 0 - ATEX approved
Data presentation, reports, SMS/E-mail at ATG station controllers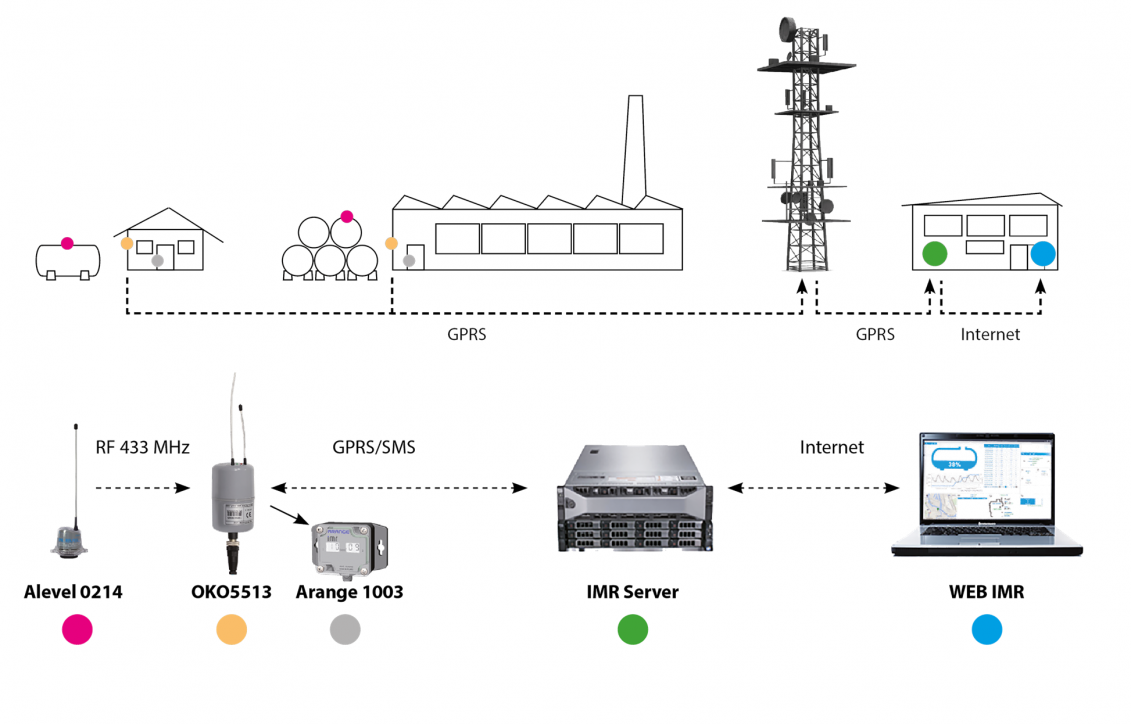 FEATURES/TECHNICAL SPECIFICATION
Features/Technical specification
Alevel 0214
The smart sensor, for nearly all types of LP Gas gauges and tanks (directly or via adapters)

Radio transmission of measured value to receivers in the range

Works in horizontal and vertical positions. Measurement accuracy +/- 3%

Effective local radio communication within approximately 30 m distance

Long life lithium battery (up to 5 years)

Robust outdoor design - IP 68

Zone 0 - ATEX approved
OKO5513
Data logger, receiving radio measurements from Alevel 0214 smart sensors (up to 6 devices)

Data transmission to the IMR server (via GPRS/SMS) and locally to radio receiver Ampli 68

Hi and Lo levels alarming, detection of LP Gas delivery

Long life lithium battery (up to 5 years)

Robust outdoor design - IP 67

Zone 0 - ATEX approved
Arange 1003
LCD display of current LP Gas levels (up to 6 tanks)

NFC communication for current and recent level readouts from mobile application (supervision over gas delivery)

Flexible installation option for good visibility for station personnel and tankers drivers

Serial communication and power supply from OKO 5513

Robust outdoor design - IP 67

Zone 0 - ATEX approved
Ampli 68
433 MHz radio receiver

RS-485 serial communication and power supply from Arange 4031

Robust outdoor design - IP 67
Arange 4031
LCD display of the LP Gas level in 2 tanks

Input RS 485 serial communication from Ampli 68 radio receiver

Output serial communication – emulation of the magnetostrictive

sensor protocol
Analog 4-20 mA output- average value of the level
24 VAC power supply, optional DIN-rail mounting
ANY QUESTIONS?

CONTACT US